This post breaks down the all-time best assistance exercises for squats. I'll show you the proven techniques to help blast through your barbell squat plateau and dramatically increase your one rep max.
First, you'll learn how to barbell squat with proper form. Next, I'll show you how to identify the sticking point that's holding you back from increasing your max squat. Finally, I'll walk you through the 3 best assistance exercises for squats.
How To Squat With Proper Form
"Squat till you drop" is what gym bros will tell you. But here's what they won't.
All of the assistance work in the world won't do jack squat (no pun intended) if you don't squat with proper form.
Performing barbell squats with proper form will (1) increase your mechanical advantage, (2) help you make consistent gains for years, and (3) reduce or prevent injury.
On the other hand, squatting without proper form is the perfect recipe for hitting a plateau and getting injured.
Don't put the cart before the horse.
Get your barbell squat technique down cold. Pick up a real weightlifting belt. Then focus on adding in proven assistance exercises.
Check out Alan Thrall's short video on how to squat with perfect form.
How To Identify The Sticking Point In Your Squat
To increase your barbell squat quickly and efficiently you first need to identify the weakness in your squat and eliminate common technique flaws.
Here's a breakdown of the three main sticking points and technique flaws that may be holding you back from reaching your full potential.
Sticking Point #1 – The Hole
Weakness out of "the hole" typically means your explosiveness, overall strength, and technique are the weak points in your squat.
You'll want to perform assistance exercises that increase explosiveness, develop leg drive, and improve technique, like paused squats.
Sticking Point #2 – Knee Cave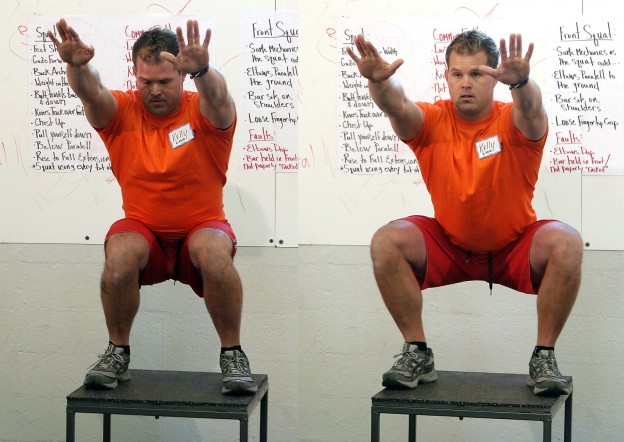 Knee cave occurs when your knees "cave in" towards each other during the squat.
This most likely means your glutes and hips are the weak point in your squat. It can also mean you have reduced ankle range of motion.
You'll want to perform assistance exercises that target the glutes and hips and increase range of motion, like Romanian deadlifts.
Sticking Point #3 – Hips Rising First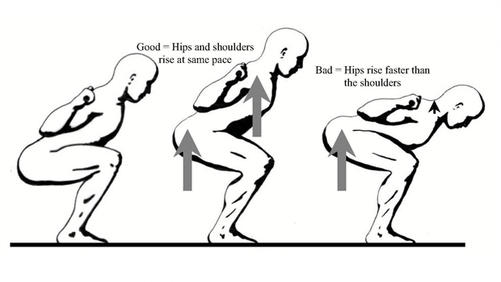 Hips rising first (aka the "good morning squat") is a common error that results in less than stellar squat performance. So what is it, exactly?
Instead of rising out of the hole with your hips and chest moving up at the approximately the same time, the dreaded good morning squat occurs when your hips shoot up much quicker than your chest, resulting in a weak and dangerous squat position.
When this happens it means your quads are the weak point in your barbell squat.
You'll want to perform front squats to shore up this weakness and stop your hips from rising first.
Related: Increase Your Bench Press With These 3 Exercises
3 Best Assistance Exercises To Increase Your Barbell Squat
Now that you know how to identify the sticking point in your squat, let's move on to the best assistance exercises for squats.
Each of these exercises will help increase your barbell squat fast and set a new PR.
1. Paused Squats
The paused squat is the best assistance exercise for increasing the strength, explosiveness, and technique of your barbell squats.
The paused squat follows the same movement as the traditional barbell squat but with one very important change.
Instead of lowering the bar until slightly below parallel and powering out of the hole to lockout in one fluid movement like the traditional barbell squat, the paused squat requires you to pause in the hole for 1-2 seconds before completing the rest of the rep.
Paused squats improve your technique and develop overall strength and explosiveness because the "pause" serves to increase time under tension near the bottom of the rep. It also eliminates any stretch reflex, which makes the lift more difficult.
I recommend starting with around 80% of your normal barbell squat weight and see if you can hit the same number of reps.
For example, if you can squat 225 for 8 reps, do paused squats with 185 for 8 reps. Adjust your weight and reps accordingly.
2. Romanian Deadlifts
Romanian deadlifts focus like a laser on the glutes and hamstrings and eliminate your knee cave.
To perform Romanian deadlifts correctly you'll want to set up to the bar with your feet shoulder-width apart. Keep your knees slightly bent at set up and maintain this degree of knee flexion throughout the lift.
Now hinge your hips and lower the barbell, while keeping your back straight. Lower the bar until you feel a stretch in your glutes and hamstrings, and then slowly straighten back up. Remember to keep your core tight and the bar as close to your body as possible.
I won't beat around the bush. It may take some time to perfect your Romanian deadlift form. But when you do you'll start to notice gains very quickly. That's why they're one of the best assistance exercises for squats.
I recommend starting with less than 50% of your conventional deadlift weight.
3. Front Squats
Novice lifters often overlook the front squat. What a huge mistake!
Front squats are just what the doctor ordered for packing on size and strength to your quads.
Front squats and back squats are similar, but with front squats the barbell rests on the front side of your shoulders instead of your upper back. Changing the barbell position in this way shifts the center of mass forward, which means your quads and glutes are called into duty more than traditional back squats.
Because front squats are harder than back squats, start with around 80% of your normal barbell squat weight and adjust to suit your ability.
Related: 3 Best Deadlift Assistance Exercises
Final Thoughts
Each and every one of these best assistance exercises for squats will quickly turn your weak point into a strength.
But remember, the entire point of assistance exercises is to assist in the development of your squat, not replace it.
In other words, perform standard barbell squats AND these assistance exercises to make steady gains.
All the best,
JD