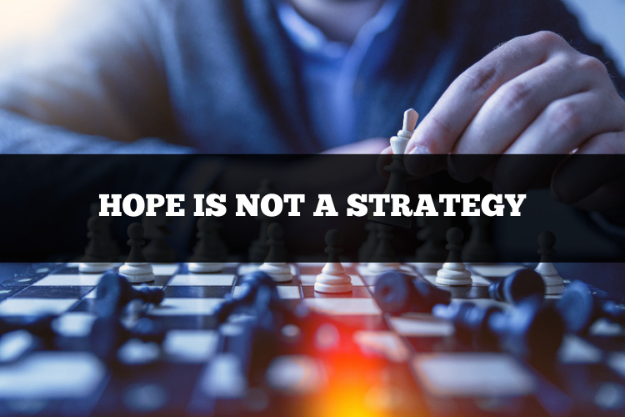 Hope is not a strategy. Yet people talk about hope all the time.
"I hope I get a raise this year." "I hope I pass my test." "I hope Jenny calls me back." "I hope my phone doesn't die." "I hope I don't have to work this weekend."
People are always hoping for the best. But what are they doing to get the results they want? From what I see, usually not much.
Don't Hope. Take Action Today.
Instead of hoping for something to happen, make it happen today. Don't wait for tomorrow because tomorrow never comes.
The only way to turn "I hope" into "I will" is to take action. And the sooner the better.
For example, in January a friend came up to me and said he wanted to lose 20 pounds this year. He saw the gains in the gym I was making and hoped to do the same. I saw him last week and guess what – nothing's changed. He was doomed from the start because hope is not a strategy.
Imagine if he said this instead: "I will lose 20 pounds this year. The three things I will do to lose 20 pounds this year are eat no more than 2,000 calories per day, lift weights for one hour a day, three days a week, and do one hour of cardio, twice a week. Every day I will track my progress in a notebook so that I will accomplish my goal."
See the difference?
You can use the same "I will" approach for anything in life, whether it's school, a job, or a relationship.
To sum up, as soon as you eliminate the word hope from your vocabulary you'll start to realize the success you've been only hoping to achieve.
Make today the day you stop hoping and start making it happen.
All the best,
JD