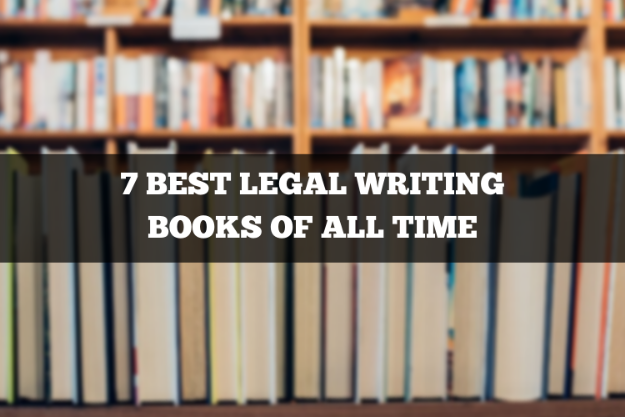 It's no secret that to be successful in the practice of law an attorney must know how to write well. Clients demand it. Judges demand it. And your boss most certainly demands it. Yet, most law schools and firms drop the ball when it comes to teaching students and new attorneys how to craft briefs and memoranda that are concise, effective, and persuasive. So if you're serious about improving your legal writing, you don't want to miss this definitive guide to the best legal writing books of all time.
1. Point Made: How To Write Like The Nation's Top Advocates

Ross Guberman's legal writing masterpiece, Point Made: How to Write Like the Nation's Top Advocates, is first on the list of the 7 best legal writing books of all time for good reason – it will make you a better legal writer.
You'll love Point Made because it provides immediate, actionable tips and techniques to greatly improve your legal writing on day one. Guberman refers to these tips and techniques as the "Fifty Techniques."
Point Made is divided into five, easy to read sections: (1) the Theme; (2) the Tale; (3) the Meat; (4) the Words; and (5) the Close.
In each section of Point Made, Guberman shows you how to apply the Fifty Techniques by providing countless examples of how these techniques are used by some of today's top legal writers, like Ted Olson, John Roberts, and Frank Easterbrook, to name just a few.
To help take your legal writing skills to the next level, Point Made concludes with 50 legal writing exercises corresponding with each of the Fifty Techniques.
Simply put, Point Made more than deserves its spot as one of the best legal writing books on the market today.
2. Legal Writing In Plain English: A Text With Exercises

Legal Writing in Plain English: A Text with Exercises, written by legal writing guru Bryan Garner, is a must-own for any law student or attorney who is serious about improving his or her legal writing.
That's because Legal Writing in Plain English teaches you the nuts and bolts of crafting excellent briefs and legal memoranda by laying out a step-by-step process for organizing your ideas, creating and refining your voice, and improving your editing skills.
Legal Writing in Plain English is divided into five masterful sections: (1) principles for all legal writing; (2) principles mainly for analytical and persuasive writing; (3) principles mainly for legal drafting; (4) principles of document design; and (5) methods for continued improvement. Garner then walks you through these five principles and methods by reviewing dozens of real-world writing samples.
In brief, Garner's common-sense approach to legal writing will help you crystallize the skills that all great legal writers possess.
3. The Art Of Advocacy: Briefs, Motions, And Writing Strategies Of America's Best Lawyers
Next up on our list of the best legal writing books of all time is The Art of Advocacy: Briefs, Motions, and Writing Strategies of America's Best Lawyers, by Noah Messing, Yale Law School's Lecturer in the Practice of Law and Legal Writing.
The Art of Advocacy is unlike other legal writing books because it focuses less on issues of style, and more on the strategic and substantive choices that confront today's litigators.
Over the course of seven easy-to-read chapters, The Art of Advocacy helps you learn to build and rebut different types of legal arguments by exploring and evaluating nearly 150 examples of great legal writing. Most of these examples come from controversial cases, like Facebook's battle with the Winklevoss twins, the Deepwater Horizon oil spill, and Apple's patent battle with Samsung.
Although reading the examples alone will help you become a better legal writer, Messing's copious annotations are guaranteed to take your learning to the next level. In fact, you may be surprised at how many subtle yet powerful arguments you would otherwise overlook without the help of Messing's annotations.
Related: Best Law School Supplements To Ace Your Exams
4. Plain English For Lawyers
Now in its Sixth Edition, Plain English for Lawyers, written by Professors Richard Wydick and Amy Sloan, has been a favorite of law students, legal writing professors, attorneys, and judges for nearly 40 years.
Plain English for Lawyers takes the cake by providing easily digestible tips and exercises to present your legal arguments in an straightforward and compelling way. For example, you'll learn how to: (1) eliminate unnecessary words; (2) choose common, everyday words; (3) arrange words for clarity; (4) write with active voice; (5) stop using overly long sentences; and (6) design your writing so that it's easy to read.
The Legal Writing Institute sums it up best: "Plain English for Lawyers . . . has become a classic. Perhaps no single work has done more to improve the writing of lawyers and law students and to promote the modern trend toward a clear, plain style of legal writing."
5. The Winning Brief: 100 Tips For Persuasive Briefing In Trial And Appellate Courts

The Winning Brief is my favorite Bryan Garner book. It's the essential guide to drafting compelling, effective briefs that judges will actually enjoy reading. In fact, it's the kind of reference guide that you'll refer back to again and again during your legal career.
The Winning Brief includes 100 tips for drafting compelling briefs. Here's a quick summary of Garner's famous "100 Tips":
Prologue (Tip 1)
Composing in an Orderly, Sensible Way (Tips 2-10)
Conveying the Big Picture (Tips 11-19)
Marching Forward Through Sound Paragraphs (Tips 20-26)
Editing for Brisk, Uncluttered Sentences (Tips 27-43)
Choosing the Best Words (Tips 44-56)
Punctuating for Clarity and Impact (Tips 57-62)
Becoming Proficient in Designing Text (Tips 63-69)
Sidestepping Some Common Quirks (Tips 70-84)
Capitalizing on Little-Used Persuasive Strategies (Tips 85-91)
Hitting Your Stride as a Brief-Writer (Tips 92-100)
Another excellent feature of The Winning Brief is the summary checklist it provides for you at the end of each tip. You'll be sure to refer back to these checklists often when drafting substantive briefs.
In short, The Winning Brief is worth its weight in gold and is definitely one of the best legal writing books of all time.
6. Making Your Case: The Art Of Persuading Judges

Co-authored by Bryan Garner and the late Antonin Scalia, Making Your Case: The Art of Persuading Judges, gives you an inside look at a Supreme Court Justice's perspective on advocacy and the art of persuasion.
Making Your Case is written in a conversational style, giving it a fresh and punchy flow. In fact, you'll find the back-and-forth banter between Garner and Scalia to be as entertaining as it is informative.
Comedy aside, Making Your Case pulls back the curtain on what motivates the court by walking you through the essential areas of persuasive mastery: (1) general principles of argumentation; (2) legal reasoning; (3) briefing; and (4) oral argument. Each of these four areas is discussed, dissected, and delivered with a level of expertise that all legal practitioners should strive to attain.
Making Your Case truly shows you how to "make a complex case simple, not a simple case complex."
7. The Elements Of Style

Although not strictly a legal writing book, The Elements of Style is the definitive guidebook for all things related to proper grammar and clear writing. That's why it's one of the best legal writing books of all time.
The Elements of Style embodies the timeless philosophy of great writing philosophy – make every word count. This philosophy is especially important for law students and attorneys, who are often forced to labor under the thumb of oppressive word counts and page limits.
Crafting concise, compelling arguments is a skill every attorney must master. The Elements of Style will help you develop this essential skill.
After you pick up a copy of The Elements of Style, you'll understand why it's been on the desk of expert writers for nearly 100 years.
Final Thoughts
Legal writing isn't easy. And for the vast majority of us, it's not intuitive. Furthermore, it's constrained by the available facts, precedent, accepted argumentative forms, and local rules.
Your ability to navigate all of the obstacles that stand in the way of great legal writing can sometimes feel insurmountable. It's not.
Great legal writing is a skill that all of us can acquire. The easiest and most effective way to improve your legal writing is to learn from the great attorneys who came before you.
So whether you're a first-year law student or an experienced attorney, if you want to improve your legal writing and become a better lawyer, you owe it to yourself to give one of these best legal writing books a try.
All the best,
JD